Safe and comfortable
Van der Valk Hotel Groningen-Hoogkerk is open to hotel guests and accessible to non-hotel guests with adapted measures. We would like to ask you to take stricter measures into account to ensure your health and that of our employees. We hope to welcome you soon for a safe and familiar stay in our hotel!

HOTEL
Our hotel rooms are accessible to business and leisure guests. As a hotel guest you can have breakfast, lunch and dinner. Of course there are some adjustments in the decoration of this. We offer our hotel guests contactless room service. This means that we will serve breakfast, lunch or dinner without contact and will place it at your room door. The rooms are cleaned in a responsible manner in accordance with RIVM guidelines. You can make a reservation here or you can do this by emailing info@hoogkerk.valk.com or calling +31 (0) 50-820 05 10.
RESTAURANT GROEN & BAR / BRASSERIE DE WIT & TERRACE
We are in contact with the Safety Region and the KHN and work according to the prescribed protocols.

Drink in the bar / brasserie
It is possible to have a drink with a snack in our bar / brasserie De Wit 'en passant', if there is space enough. Are you not a household? Then you may sit at a table with a maximum of two people. Households can sit up to 6 people at one table, without being 1.5 meters apart.

Terrace open daily from 9am
Our terrace is open. You can take a seat on the terrace every day from 9:00 am. The same rules apply outside as in the restaurant, but no maximum number of persons applies, if the distance of one and a half meters is observed. Reservation is not possible. The toilets may also be used by our outside guests.

Lunch & dinner
We offer a daily lunch at 11:30 am or 2 pm and dinner from 5 pm. Reservations must be made for this. Are you not a household? Then you may sit at a table with a maximum of two people. Households can sit up to 6 people at one table, without being 1.5 meters apart. With a QR code you can view the menu with your own mobile. Until July 1, we do not organize a brunch and lunch buffet and it is not possible to reserve a High Tea.

Regular lunch times will expire on July 1, but reservations remain mandatory, as well as for dinner. For dinner, we use fixed blocks on Friday and Saturday: 5 pm - 7:15 pm and 7:30 pm - 9:30 pm. This does not apply on weekdays and Sundays.

Take a look at the menu.
Book a table on +31 (0) 50-820 05 10.
Reservations are subject to possible changes to the measures of RIVM.
BUSINESSROOMS
Reservations for our rooms are coordinated in consultation with the guidelines of the RIVM. The Sales department can be reached at Sales@hoogkerk.valk.com.

FACILITIES
The fitness studio is closed until September 1. The health of our hotel guests is paramount to us and to guarantee this, these hotel facilities are temporarily unavailable.

At Van der Valk, the health, safety and well-being of our guests and employees has the highest priority. In order to guarantee your health and safety, we would like to ask you to observe the following policy during your visit to our hotel:

General hygiene measures:
Follow indicated walking direction and hygiene measures
Keep 1.5 meters distance

from other guests and employees
Do not shake hands

with fellow guests or hotel staff
Wash your hands regularly

and in accordance with RIVM guidelines
Use paper towels

to dry your hands
Cough and sneeze in your elbow

and turn away from fellow guests and hotel staff
Preferably pay with pin or contactless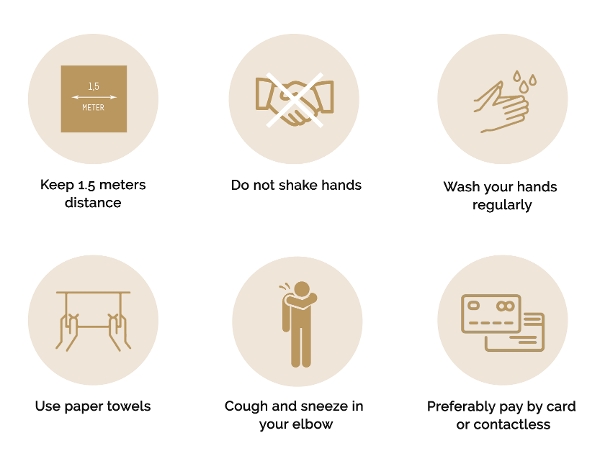 Do you have symptons of a cold, such as a runny nose, sneezing, sore throat, mild cough or increase to 38 degrees Celsius? Then we ask you to stay at home and not to come to the hotel.
We do everything we can to make your stay as safe and comfortable as possible. Thank you for your confidence in Van der Valk and we hope to welcome you in our hotel soon. If you have any questions, please do not hesitate to contact our reception: +31(0)50-820 05 10 or info@hoogkerk.valk.com
With hospitable regards,
The Van der Valk family