Rooms
CHECK OUT OUR CURRENT MEASURES ABOUT THE COVID-19 VIRUS HERE.
Suites
Wellness Suite White
The Wellness Suites of Van der Valk Hotel Groningen-Hoogkerk are stylishly decorated. The suites are very complete and ideal when you are looking for a luxurious suite with a jacuzzi or sauna.
The luxurious suite in black colour scheme has an extra luxurious bathroom with double walk-in rain shower, jacuzzi, and sauna.
The rooms are provided with extremely comfortable box-spring beds with 2-person top mattress for a good night's rest.
The luxurious suite (62 m2) has two flat screen televisions (49 inch) in the seating- and sleeping areas, a fire place, a laptop-locker, sound system via bluetooth, free coffee- and tea-facilities and minibar.

As a hotel guest, you are welcome to make use of the fitness facilities, WiFi (or the internet through the built-in data connection) and free parking.
Smoking is prohibited in all our hotel rooms. Pets are not allowed in the Wellness Suites.
For our suites we charge a deposit of € 150,00 via a creditcard guarantee or you can pay the deposit in cash or by card. After check-out we will have to check the suite, we will return the deposit if the suite is left in the right condition.

* The hotel rooms may differ from the pictures shown.
** A maximum of 3 persons can stay in this room type.
Book Wellness Suite White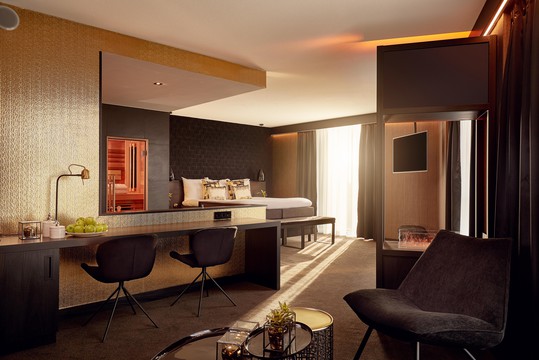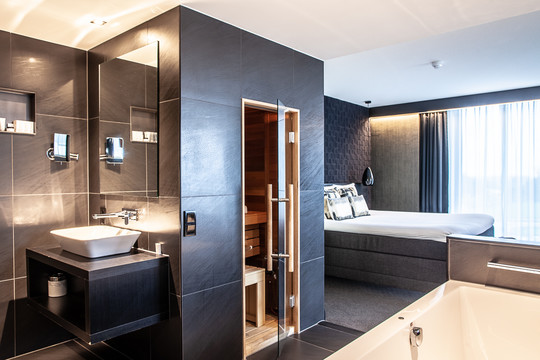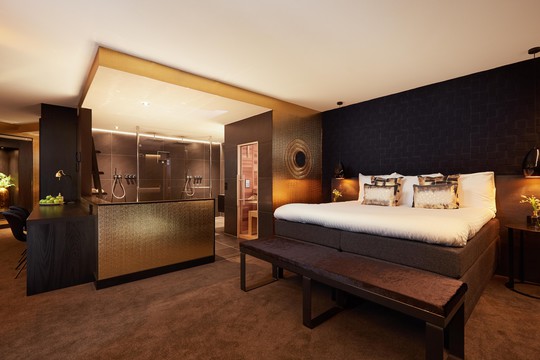 The Wellness Suites of Van der Valk Hotel Groningen-Hoogkerk are stylishly decorated. The suites are very complete and ideal when you are looking for a luxurious suite with a jacuzzi or sauna. The luxurious suite in …